Reduce // reuse // recycle
Thoughtful use of wood
For us here at Trademark Living, our passion for vintage items and recycling also comes with a respect for the limited ressources of Earth.
Wood is an absolutely fantastic material; in the right hands, it can be shaped into something extraordinary. But, although we really love working with wood, we're mindful that trees serve other, more important purposes in the global ecosystem. Good wood is therefore a precious resource that must be produced and used with care. In an effort to minimise our climate footprint as far as possible, we do our best to think climate-friendly all the way from the moment we come up with a wild idea, until the finished product leaves our warehouse.
One of the stages in the production phase where we try to pay special attention to our impact on this Earth is during the selection of materials for our wood productions. New Trademark Living wood products are made exclusively from long-lasting types of wood – also known as 'hardwood'. Hardwood is characterised by beautiful grains and knots, which give the products a natural and unique look.
Wood in focus
Recycled wood
Recycled wood is a sheer win-win for customers and the climate. Not only does wood have the ability to last for generations, but the climate bill for the wood used has also been paid forward! But – just like people – wood is ultimately subject to wear and tear. Large quantities of tired furniture, doors, wooden boxes, etc., are thrown out when the paint starts to peel off or a table leg breaks. However, there's nothing at all wrong with the wood – on the contrary, a little wear produces the rustic look that so many of our customers demand.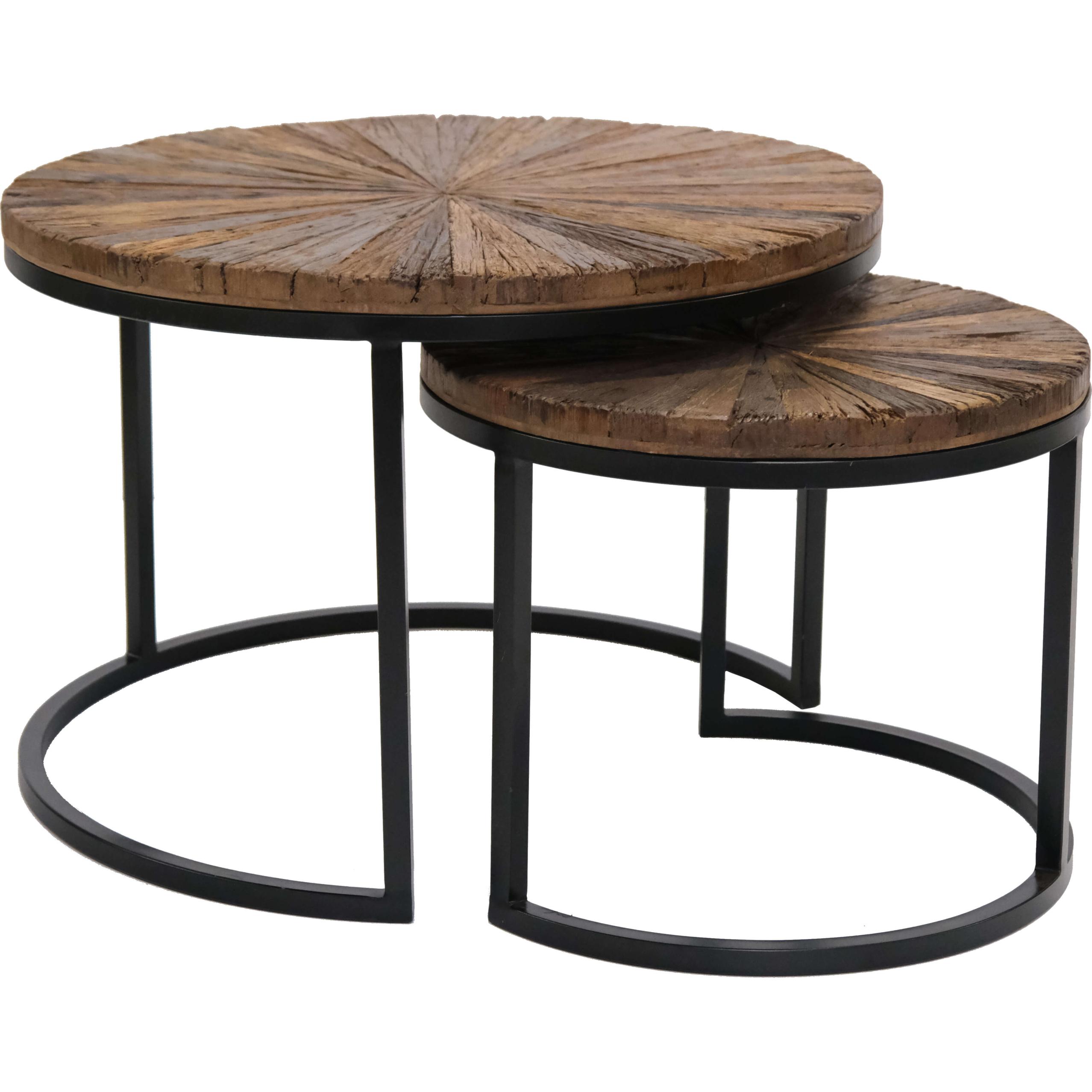 FROM WASTE PRODUCT TO INTERIOR DECOR
Mango wood
Mango wood is a water-repellent hardwood, making it ideal for creating eco-friendly indoor furniture. Mango wood is characterised by a wide range of colours since the wood core changes colour with the age of the tree. The colour ranges between light and dark shades of brown. The variation gives each product a unique surface and the rustic look that characterises Trademark Living products.
However, the aesthetic qualities of the mango wood are not the only reason Trademark Living has fallen in love with this material! The mango tree itself is a waste product from the production of mangoes. The mango tree grows quickly, but after 7–15 years the tree stops bearing fruit. The barren tree is then removed to make room for a new, fertile tree. Before we started producing mango wood furniture and interiors, the trees were typically burned down to make way for new, fertile trees. Because Trademark Living's productions now use this fast-growing mango wood, the trees are now instead felled and planted in a 7–15-year cycle. So, mango wood has gone from being industrial waste to becoming a new income stream for hard-working farmers. Eventually, the 'waste' becomes beautiful furniture.
ADD WARM SHADES TO YOUR DECOR
Acacia wood
Acacia is a solid, fast-growing hardwood tree, characterised by its warm, reddish shades. The hardness and water-repellent properties of the wood make it ideal for the production of rustic furniture, creating a warm contrast in contemporary homes. Wax or oil treatment is all that's needed for the beautiful, rustic woodgrain to come into its own.
Most people would probably recognise the iconic images from the African savannah, with a half-asleep male lion seeking some much-needed shade under the umbrella-shaped crown of the acacia tree. Savannah wildlife is not the only beneficiary of the acacia, however. There are more than 100 different types of this tree species across much of the southern hemisphere, where they're used to produce everything from food and medicine to furniture and printer inks.
At Trademark Living, we use acacia wood from India, where the wood is particularly popular and contributes raw materials to the furniture, leather and textile industries.
Fun fact: The chemical reaction from the 'Mentos and cola light experiment' is primarily due to the content of edible acacia in Mentos mints.